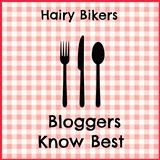 I had some diced lamb leg in the fridge as it was on offer on Morrison's (my new online grocery shop of choice!), and thought I'd like to make something like a lamb hotpot. Fortunately, the Hairy Bikers came to the rescue with this scrummy but healthy
Lean Lamb Hotpot
from their
H
airy Dieters
book. And also I could finally enter one of
Jo's Kitchen
's Bloggers Know Best linkies!
This recipe is actually very simple; you just need a couple of hours or so to make it, although most of that is just letting it bubble away in the oven - perfect for a lazy Saturday like today!
I halved the amount of meat, carrots and potatoes (actually I overestimated a bit on the amount of potatoes... oops) as I was only serving two, but stuck with the same amount of stock and flour - the pot I was using doesn't have a very tight lid, so I was expecting it to reduce a fair bit (which it did). I did chuck in a sliced leek though, as I happened to have one in the fridge and it never hurts to up the veg content of a dish!
Anyway, here is the result:
Hairy Biker's Lean Lamb Hotpot - I am not the neatest of potato slicers...
Yummy, right?
We certainly found it so. Everything had cooked wonderfully and was meltingly tender. Even the slices of potato which I had not sliced all that thinly had cooked through ok. It probably could have done with a little longer or a slightly higher temperature towards the end of cooking to brown the potatoes a bit more, but it didn't really affect our enjoyment of the dinner. I do love the addition of Worcestershire sauce to this dish - it really beings out the flavours.